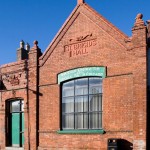 Saint Brigid's Hall (known locally as "The Boys' club") is dated 1902 and is believed to have been built on the former site of the Dunleer Petty sessions courthouse. The building construction is a Rectangular-plan with a decorative terracotta brickwork facade and an uncut stone wall construction for the remaining walls. These walls or at least the materials used are probably original to the original court house building.
This beautifully detailed unique building is prominently sited on the upper main street of Dunleer and is a well known landmark.
The building has recently undergone a substantial refit after many years of use by parishioners. The refurbished Hall has now been re-opened for the continued use and benefit of the community.
Download Form – Use of Church Property by External Groups