On Saturday the 10th of February we will celebrate our fifth Do This In Memory Mass at 7.30pm in St Brigid's Church which presents the liturgy for the 6th Sunday in Ordinary time.
Healing is the theme for this Mass and the KidZone area in the Church references the stories of St. Brigid and St. Blaise who both cared for the sick and whose feast days occurred on the 1st and 3rd of February respectively.
We will recognise The World Day of the Sick at this DTIM Mass and the children have drawn pictures on this theme to display in the Church.  The picture below by Dean from Dromin National School recognises the anointing of the sick by our Parish Priest Fr Murtagh which in reality will next occur at a separate Mass for the Feast of Our Lady of Lourdes at 10 am on the morning of same day as our DTIM evening Mass i.e. 10th of February.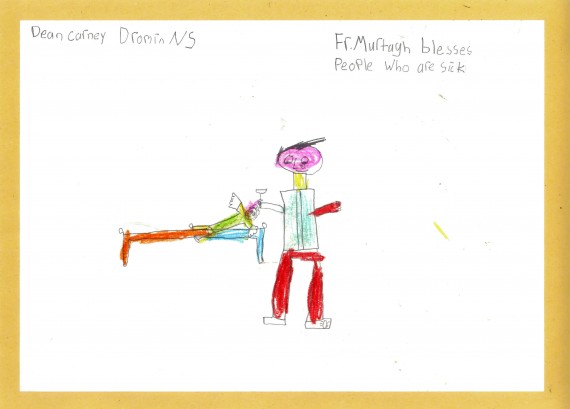 The season of Lent begins on the 14th of February with Ash Wednesday coinciding this year with St. Valentines Day! During Lent we are all invited to a change of heart, to turn again to God who is always ready to forgive based on true repentance in the Sacrament of Reconciliation (Confession) which all of the children are preparing for in School at present.   The KidZone  also contains a large calendar and map to signpost the journey through Lent.  These are available to download from the website www.catholicicing.com or  hard copies are available from the KidZone area in the Church.