Our next Do this in Memory Mass is Saturday 23rd of December at 7.30pm in St Brigid's Church on the 4th Sunday of Advent which will bring us right into the Season of  Christmas.
All children will likely have written their letters to Santa Claus.   For the next Mass we have invited each child to write a letter to Jesus  thanking Him for all that He has done so far this year for them and their family and for all the things they have in their lives that money cannot buy.   A few children will have an opportunity to read their letters and all will be placed in a letter box beside the crib for Christmas Eve night.
The children are encouraged to have fun doing the activities in the THUMB book on Pages 44-45, read about the Introductory Rites  of the Mass on Pages 14-15 and learn about the Advent calendar at home.  For example, these activities introduce the concept of  the Jesse tree.
Earlier this month each child coloured in a unique paper ornament at school to decorate our own Jesse Tree which can now be found on the altar in St. Brigid's Church.  The tree of Jesse is like a family tree of Jesus and depicts in art form all the characters from the bible who represent the ancestors of Jesus.
The Kidzone area in the church contains an advent calendar with all the bible references and stories of the main characters represented by the Jesse Tree.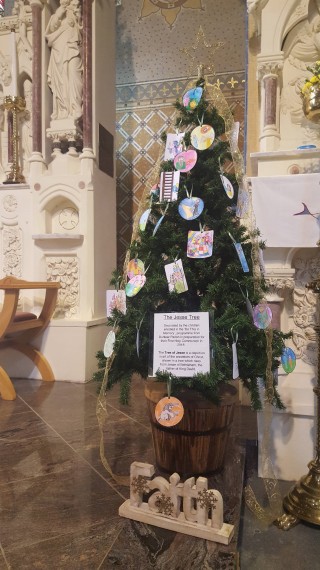 The Tree of Jesse – St Brigid's Church
Saturday night's Mass will be a beautiful joyful celebration and it will help to prepare our hearts to enter into the true meaning of Christmas.