We have begun our journey of faith with the children of our Parish in preparation for the sacraments of Reconciliation and First Holy Communion.  Each child will have received their enrolment certificate signed by their parents/guardians, their teacher and Fr Murtagh all of whom bear witness to their commitment and remind the children of the support they have in their preparations.
Our next Mass is Saturday the 18th of November and the theme explored this month is endings and beginnings.  We are reminded that we now approach the end of the Church year on the Feast of Christ the King on the 26th of November.  However, the First Sunday of Advent marks the beginning of the New Church Year on Sunday the 3rd of December!
November is a time when we remember all those who have died.   Their life on earth has ended but, because they believe in God, we know that they begin a new life with God in heaven.
The children have been asked to bring a fallen leaf from a tree to the November Mass which will be placed in a basket to offer with the gifts.  The leaves will remind us to continue to pray for those who have died.  In addition, each child is invited to write a prayer of intercession for their relatives and family friends who have passed away and place it in the special prayer box which will be carried to the altar with the gifts and prayed for.   These prayers will remain in the Kidzone area after our DTIM Mass and will be offered a second time at the annual bereavement Mass on Saturday the 25th of November at 7.30pm.
The wider Parish are encouraged to pray for the children who are preparing to receive Jesus, the Bread of Life for the first time.  The children's names will be put into a basket and we will ask people to take a name and become a prayer friend.  This means that they will promise to pray for the child as they get ready for their First Holy Communion.  The children's names are also listed in the enrolment book in the Kidzone area so alternatively please choose a name from it and remember to pray for them.
The Kidzone has been prepared this month to fit the learning themes.  On the left of the Kidzone area are some photographs/names of people who have died in or around our Parish the last 12 months.  On the right hand side of the Kidzone area the children's prayer box (located on the stool) can be found as per the photograph below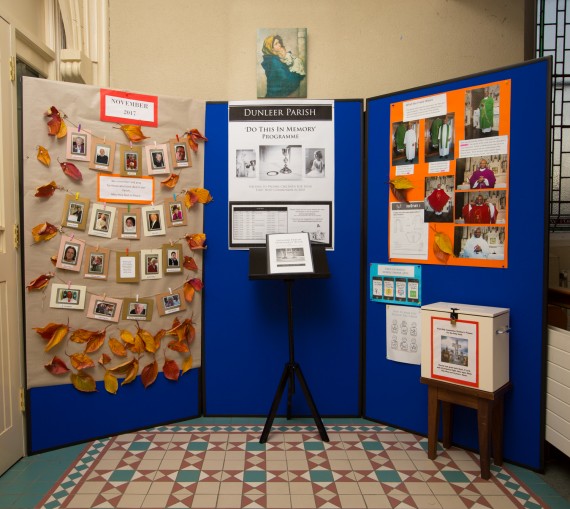 Fr Pius kindly demonstrates the vestments that a priest in our Parish will wear throughout the year which ties in with the learning activity on page 42 of the child's THUMB book.  The children and their parents are encouraged to check out the Kidzone area when in St. Brigid's Church, Dunleer.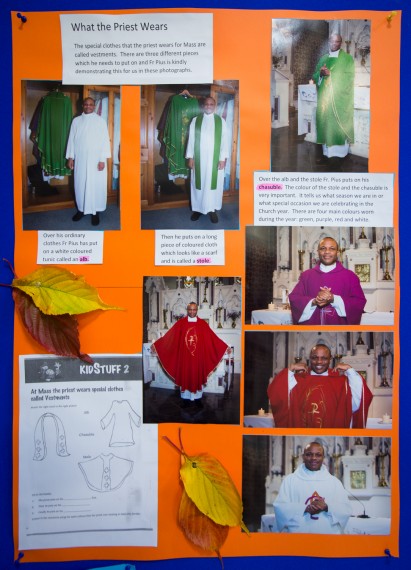 Check out this video from Youtube on 20 Ways to Pray for the Holy Souls