Mass 1 [02-Nov-19] Enrolment
Our first 'Do This In Memory', Mass is scheduled for Saturday 2nd of November at 7.30pm in St. Brigid's Church Dunleer.
Parents will have received an information pack at the enrolment information evening on Wednesday the 16th of October 2019.  This information pack will contain several resources and amongst them a THUMB book, a special Do This In Memory candle  and a newsletter called Grapevine.   The THUMB book will introduce the programme and it contains the Mass Book or prayers used at the normal Mass.  The Enrolment Mass is a special Mass which completes the Enrolment for First Holy Communion for 2020.  Therefore, there are a few extra elements to the liturgy such as promises the children, parents and community will be invited to make.
We encourage you to take time with your child to read through the promises to be made at the Enrolment Mass located on page 8 of the THUMB book.  Help them to find these pages in their THUMB book at the Mass itself.
Note that the gospel in the Grapevine Newsletters will come from a children's lectionary which will be an adapted version of the Word tailored to their own level of understanding and suitable for preparation for Mass whilst reading it at home.  At all Do This In Memory Masses the readings will be read by the Parish Ministers of the Word from the normal lectionary,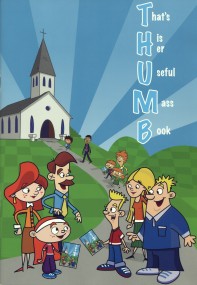 Every month there will be an activity for the children to participate in which will be inspired through the Grapevine Newsletter and the Kidstuff section of the THUMB book.  However, there will also be a letter to summarise exactly what your child needs to bring or prepare for the next Mass so that there is no confusion.  The Grapevine Newsletters and letters will be distributed to your child through the schools about one week before the next Mass so please watch out for them.
Parents will notice that the Grapevine Newsletter 1 has a green heading on it which corresponds to the green heading on Kidstuff Section one on page 40 of the THUMB book.   This indicates the activities for that month that the children should work on.
For example, the section on page 40 of the THUMB book 'Who did you see helping at Mass this week?', may be completed after the Mass on the 2nd of November 2019.  However, on page 41 you are asked to bring a pair of Rosary beads to Mass on the 2nd of November so that the priest can bless them along with the Do This In Memory Candle.
We focus on setting up your child's sacred space for prayer  and in particular this month teaching your child to pray the Rosary.  In addition to the materials provided, here are some resources to help you do that.
Making The Sign of The Cross

The Our Father

The Hail Mary

Teaching young children to pray the Rosary